The Greens Beach Holiday and Caravan Park also adjoins the Greens Beach Golf Club which in its own right is widely recognised as one of the very best nine hole golf courses in the state, if not the country. A good mixture of long par 5's , intriguing par 4ís and delicate par 3ís, this golf course makes for an interesting challenge for even the most competent of golfers. Come into the warm and ambient clubrooms afterwards to tell a tale of what could have been or just to enjoy a cold drink within a friendly atmosphere. Visitors are most welcome.

The eastern boundary of the Narawntapu National Park starts at Greens Beach. A short drive along Gardners Road into the National Park will take you past Pebbly Beach with a view to the east across the bay to Low Head and the lighthouse. Then on to West Head and the lookout, where you can see Badgers Beach and further along the Northwest coast than you thought possible. Or you might choose to walk, where a leisurely stroll takes you along a bush track through paperbark teatrees and alongside the foreshore until you arrive at the West Head lookout. The return trip in total takes just over three hours, and is well worth it!

A walk or drive in our area around sunset and the variety of animals abound is truly a nature lovers delight. From bunnies to wombats, pademelons to wallabies, and possums to Tassie devils, they all come out to play in the night air. Fishing is also a major pastime, whether it be off the rocks into Bass Strait or a pontoon into the Tamar River, you could be landing anything from Australian salmon, flathead, pike or kingfish - a very tasty menu indeed! Boat ramps are located at nearby Kelso or Clarence Point.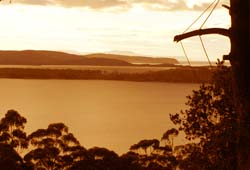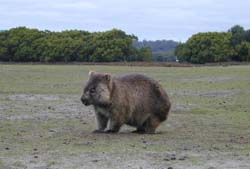 In the immediate area the attractions are endless. Nearby Beauty Point boasts Seahorse World and Platypus House, as well as Strait Vodka and Gin Distillery. Also from here the Shuttlefish ferry runs services to Clarence Point and to Kelso, and across to Georgetown and return - what a great way to spend the day!
Further on to Beaconsfield and you will find the Beaconsfield Gold Mine and Grubb Shaft Museum. Just up the road is the start of the Wine Route with many large and small boutique wineries well worth a visit.
So in our quiet peaceful little village you can have the choice of golfing, fishing, tennis, bushwalking, swimming and boating, or touring further afield to world class tourist attractions and wineries - all of this from a base at Greens Beach which is less than an hour away from major centres such as Launceston and Devonport.